[img]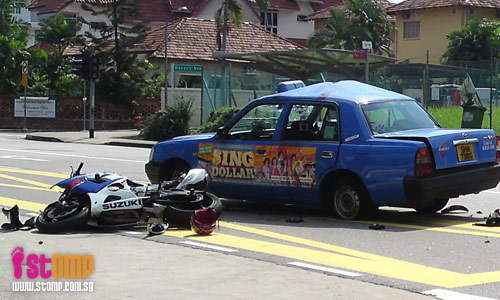 [/img][img][/img]
An unfortunate accident occurred outside ITE College East in Simei today when a motorcyclist collided with a taxi that was making an illegal U-turn. The motorcyclist, an ITE student, suffered serious head injuries and was conveyed to
the hospital, said that the accident occurred slightly before 1pm today.
One of the witness for the accident said, the motorist was sent to the hospital and the taxi driver escaped with minor injuries.
In an email, the witness says:
"There was an accident outside ITE College East and the motorist was an ITE student before.
"The motorist was sent to the hospital immediately and the taxi driver suffered minor injuries.
"The taxi driver made an illegal U-turn and caused the accident.
"At the same time, the motorist was driving at about 60-70km/h."
STOMP contacted the Police, and this was what their spokesperson said:
"Police received a call on May 27 2009 at about 1.45pm informing us of an accident involving a taxi and a motorcycle along Upper Changi Road.
"The motorcyclist, a man in his early 20s, suffered serious head injuries and was conveyed unconscious to Changi General Hospital (CGH). The taxi driver, a man in his early 60s, and his two passengers, a Chinese woman in her early 80s and another Chinese woman in her mid 40s, were conveyed conscious to CGH with slight injuries.